Check-in 3 pm
Check out 11.am

DOOR CODE
We will send you a code to the door the day before your arrival, so you can check in whenever it is convenient for you.
If there has not been a booking the day before your arrival – or on the same day you check out, we are happy to be flexible around your check in/out time.
— Homemade organic porridge mix
— 200 gr organic coffee
— Organic teabags
— Organic milk
— Organic juice
— Organic fresh fruit
+ one bottle of wine from www.thehiddensea.com.au
— 2 Kayaks
— Pyjamas shirts
— Slippers
— Bathrobes
— Organic Towels and Bedlinen from Tekla
— Basic pampering such as Soap, Shower gel and body lotion from Skandinavisk.
— Hairdryer
— 2 oversized jackets to wear as a blanket outside.
You can rent our Dingy by the hour. Just let us know, and we will give you a quick instruction. Starting at 500kr for the first hour.
If you like our Kaj Hotel Branded sitting suits, lets us know, as we have some spare you can buy.
KAJ Hotel is intended as a home away from home, and was designed as much more than a hotel room. In addition to the stunning views, the 16m2 room is thus furnished with a king size bed, toilet and bathroom with shower, and a kitchenette complete with cooking hob, refrigerator and basic kitchen utensils (Plates, glasses, cups, cutlery, choppingboard, knifes, and a pot for the porridge).
In addition to the king size bed, the room has a cozy mezzanine loft with two single beds if you want to bring your kids, and a cot can be arranged for babies and toddlers.
There is an additional charge of 250kr per person – in addition to the 2 people Kaj was originally designed for.
Mornings at KAJ Hotel rhymes with freshly made Scandinavian porridge topped with organic fresh fruit, juice, milk or sugar – the combination is up to you. We provide all the necessary ingredients. All you have to do is add it to the pot, heat, stir, and enjoy. The recipe was created by innovative Danish chef Bo Lindegaard and changes every season, so be sure to revisit to try as many as possible. The ingredients list will be available upon your arrival.
Please let us know if you have any special needs.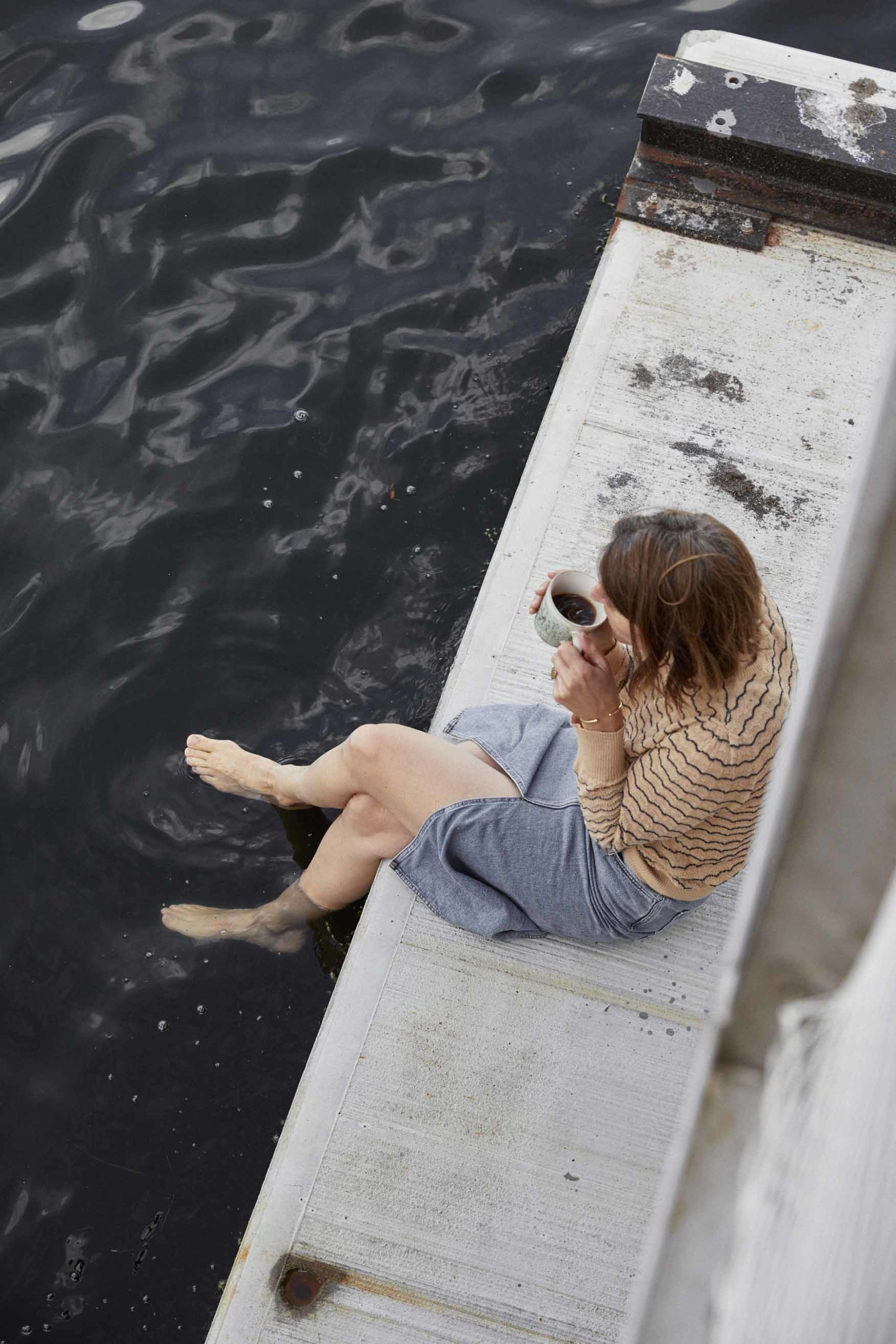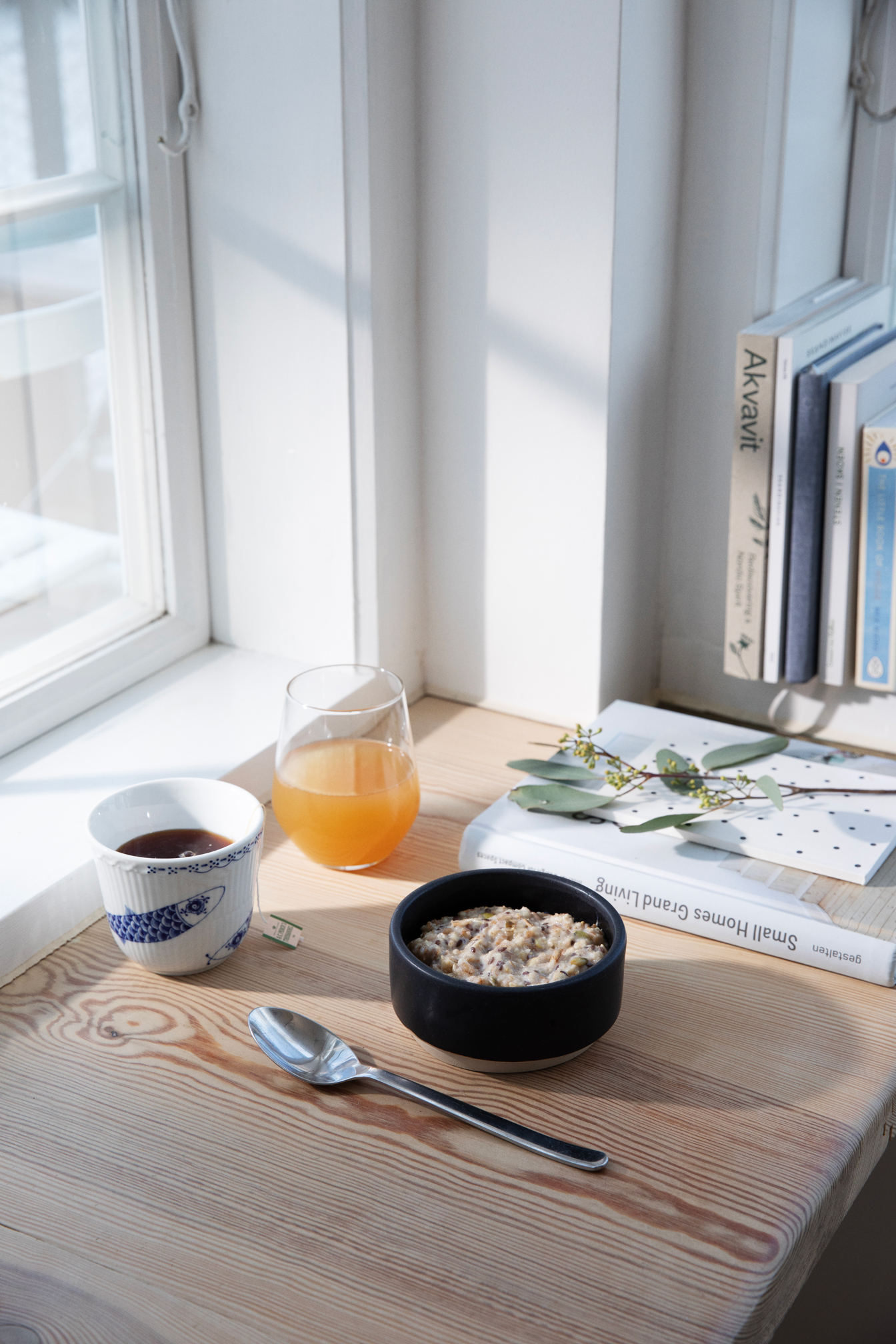 In addition to the milk, juice, fruit and porridge you are also provided with 200gr. of fresh organic locally roasted coffee. We collaborate with Impact Roasters, a native Ethiopian coffee roaster located a 20-minute bike ride away. Their coffee is of deliciously high quality.
And our tea? There's no one above A.C. Perch, where we source ours. This famous teashop in Copenhagen was established in 1835 and supplies incredible leafs and blends to all layers of Danish society – even the Royal Family.
KAJ Hotel offers a very basic minibar with just a few, but very high quality bottles. The selection can vary as it reflects our own preferences.
Copenhagen distillery DRY GIN, 500ml: 400kr
Copenhagen distillery DRY GIN, 50 ml; 65kr – Tonic included.
Wine: 350kr (Wine from Hidden Sea is a donation) 
Beer: 20kr – or refill with your own beer
"Be aware; Many of our guests have asked us where we have bought our duvets and bedlinen. They want to go home and upgrade their own after having slept in ours. Its highly addicting staying here".